Perhaps this was one of the toughest lessons I had to learn while building and growing my brand.
It might not seem so, but I'm a bit of an introvert.
In my own time, when the cameras have turned off and the microphones have closed, I love the quiet and comfort of my friends and family and acting as if my on camera/online persona doesn't exist.
I remember being a young TV reporter and people would literally stop me in the bank, the grocery store, the hair salon, at events, at weddings, at funerals, just to say:
"Aren't you the girl from TV?"
Those were the nice ones.
Some people would literally stare me down from head to toe and not speak a word; I couldn't tell if theirs was a look of disgust or admiration. Both approaches annoyed me severely and really made me want to crawl into a shell!
I hated being recognized, I hated being stopped in traffic and soon I found myself always on the defense, always with a resting b*tch look on my face and just zoned out when I was out in public. I just wanted to be "normal."
It was my mom who helped me to realise that the minute I chose the career I did, I inadvertently invited people into my life.
I wanted so badly to separate "Ianthia, the woman" from "Ianthia, the media personality."
Even to this day, I can admit that they are two totally different people, with totally different personalities.
But when I got serious about personal branding, I realised that I had to find a way to make them co-exist.
It was definitely a lesson I had to learn. I had to know that even though, for me, the cameras and microphones were gone, when people saw me, they saw the girl on TV, that they had expectations, they expected to see the smile, the perky, cheerful character on TV and whether I liked it or not, I had to deliver.
Branding Offline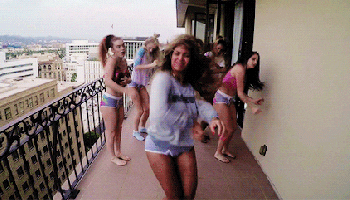 I knew that if I wanted to my brand to grow and work and reach people, I had to become that, 100%, 24/7, 365 days a year. There was no separating.
Because building my personal brand is way more important to me than pretending I don't see the woman next to me in the pharmacy trying to flash a smile, I flash a smile back…even if I just had the worst day!
[bctt tweet="Building your personal brand is something that you do every day, sometimes without even knowing it. " username="iamianthia"]
BRANDING: It's what you eat, what you drink, what you wear, the items you buy, the events you attend, the people you hang out with, the people you avoid…it literally is everything about you and what you do. 
Your personal brand is how people see you, the first words that pop into their mind when they hear your name, the mood, attitude, the feeling people associate you with…at just a glance. It's intense, but this is branding.
Being the girl who thought I could separate the two, I never knew why this was important. But the more mature I got, I realised this is super important because it determines the jobs you get, the partnerships you build and essentially…how many coins you make!
It's your brand that people like or…in some cases, don't like. The majority of the people who see your brand  don't know you as a sister, or daughter or cousin…they only know what you sell (via your brand) to them; and either they're buying or they aint! 
I can honestly tell you that a lot of the jobs and partnerships I was able to land, were due to the image people had of me. And they'd tell me. Many of them say they reached out because they saw my online brand and related to it, or they saw me at an event and liked the way I carried myself.
True words.
Branding Online 
Every "little" post matters! Especially in this day and age…
[bctt tweet="Anything you put online could either make or break your brand " username="iamianthia"]
CEOs, potential partners, future employers, brand collaborators are now checking every corner of social media as part of the interview process.
What does your digital footprint say about you? Back in the day with Hi5 and Myspace, we had the luxury of being a little reckless and getting away, because back then digital footprint didn't mean what it means now. These days, your digital footprint could be the difference between a referral and a reprimand.
Today the tweets you send out, the photos you upload to IG, the statuses you post on FB act like your walking resume, it is all a part of your personal brand.
3 Tips for Brand Building 
Define it – start thinking of yourself as a brand. Look at Beyonce, and Rihanna, they are personal branding machines. One, because they defined what their personal brand is. You have to figure out what you want people to think of when they hear your name. What qualities, descriptions, feelings do you want linked to your brand? You have to figure out what that is, name it and claim it. After leaving media I decided I wanted to be known as the girl who not only is on TV but also makes TV, the girl who writes the blog about life, love and travel, the girl who, shares her life on Instagram. The girl who quit her job and is now her own boss! And guess what…I did that!
Develop it – Now that you know what you want your brand to be it's time to go underground and work! This is the stage at which you network, meet people, start getting your name out there, line yourself up with events and seminars and conferences that will help you push your brand. When I left news, I went way underground! I was about to take on this whole new world of entrepreneurship so I had to recalculate my moves and figure out what it was I wanted to do.
Deliver it – so after you (1) define your personal brand and then (2) develop it, you've already built up all the hype and people are now talking, asking about you…you have to deliver! This is where you put it all on the line and sell yourself as the best thing since slice bread. You have to be strategic; give them what they want and then make sure they can't get enough of it! 
What are 3 words that describe your brand? Tell me in the comments below!