Please don't let the title of this post fool you; I'm still living my best life as a #girlboss, blogger and entrepreneur; but I've learned some lessons and I have some real tea to spill! 
It's my quit-a-versary!!!!!
Since then, I've achieved and done so much in the four years since I walked out and chucked the deuces to my desk, strict schedules and overwhelming stress and sometimes sadness that consumed me as I dragged along at my 9 to…whenever-the-work-was-done o'clock job. And each year, as you know, I craft a candid and oh so real blog post to celebrate my quit-a-versary and bring you up to speed on where I'm at!!!!!!!
Remember these blogs?
When I first quit my job I literally had no plan. I had no idea what I'd do next but, I did know that success was mine to have. I didn't know that four years later I'd be contributing writer for ESSENCE, XONecole and Forbes Travel Guide; I didn't know that I'd snatch up gigs as brand ambassador for Black Opal, ORS Haircare and Going Places Travel; I had no idea I'd write an ebook, host workshops, rack up speaking engagements with hundreds of people wanting to hear from me, host influencer events, grow a thriving brand and blog, be invited on the first ever all Black all female, travel influencer trip and build a tribe and community of people who value my opinion and follow the journey. I guess it's safe to say…
I DID THAT!!!!
READ ALSO: You don't have to quit your 9 to 5 to be a #girlboss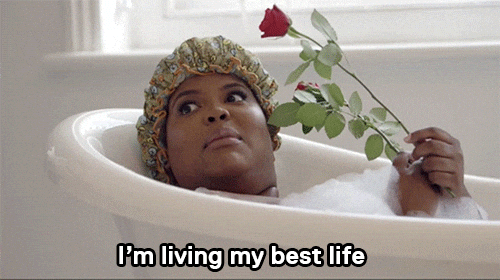 Quitting my job was for sure one of the best decisions that I've ever made in my life. It's given me the freedom that I so longed for and was the spark that lit the fire to the path that my feet and creativity were so desperate to walk.
But any entrepreneur who wants to be honest would tell you that it's hard!!!!!! In my field being a blogger and influencer in an increasingly growing market, I'm flooded with doubt, insecurity, procrastination, an overwhelming sense of "am I doing enough?," fear, anger and anxiety thinking about what's next.
Yes, quitting my job has allowed me to explore life, the world and myself in ways my 9 to 5 could never; but it's also been the cause of many tears and "b**** WTH did you do?" days.
Even in the midst of living my best life, entrepreneurship is hard and being a #girlboss is a job all its own! While I have no plans of filling out any job application forms in the near future (unless the offer is irresistible :), I've made it a promise to keep it real at all times and take you on this journey with me, through the good, the bad, the ugly and the Instagrammable moments!
Here are:
4 times I wished I didn't quit my job! 
When I lost contracts – So as a blogger and influencer I primarily make my money online by working with brands to help promote and sell products and services. With the field being so competitive and ever-changing these days, snagging a one-time or short term contract with a client is gold. But I've been lucky enough to land a few long-term, high paying gigs that helped to make up my monthly salary. So what happens when said brand wants to pull out and carry the money with them? Yes, I've lost a few contracts and made the mistake of not reeling in those one-time clients into bigger, more long-term deals. It's literally like a punch to the gut or like having the rug pulled from under you getting an email or phone call of that nature, especially when you were banking on (no pun intended) that check for next month's trip!
Lesson learned? Negotiate, negotiate, negotiate!!! I've learned to now negotiate with brands and place timelines on our contracted partnerships. Sure a one-time gig is fine here and there, but they really bring no security and safety to my business. Locking in clients for three, six, or even 12 months at a time is the only way to survive in these blogger streets! Times like these definitely made me miss the "security" of my job…or at least the idea of it.
When the checks were late…and WTF is net 30? – Ask just about any entrepreneur and they'd tell you that one of the hardest parts of working for yourself is waiting on that check! You've done the work, sent in the invoice, been patient, sent in the follow up, you patiently wait only to learn the heart wrenching meaning of Net 30! Yes, it means even though you sent in this invoice last month, you'll get that check in 30 days! Even worse is the wait on those international checks from clients in other countries. You wait on the check then wait on them to be cleared by your local bank…meantime those bills aren't waiting on anyone!
Lesson learned? PATIENCE! I also learned to educate myself on business practices, the lingo used and to ask for pay schedules, this way I'm not emailing like a lunatic and thinking someone is trying to rob me. All of these are things to get in black and white so that you have it handy. I swear to you, waiting to get a check or waiting for it to clear was so annoying and frustrating, especially when I was used to getting those direct deposits every two weeks. It's important to find these things out before taking on a job, to help manage expectations…and spending habits.
When the mind played games – I've said it before and I'll say it again: working for myself is hard! One of the first things that happened when I quit my job was that I went into panic mode…after celebrating my birthday, my vacation and enjoying the holidays. I'm sometimes like the Energizer Bunny and I love the feeling I get when I'm doing something, when I'm achieving something, when something is going on with me; a project in the works, a show to shoot or produce…something! But early on when I was still trying to figure out why the hell I quit my job and what I would do next, I would literally overthink myself into depression (not clinically proven, but it's how I felt.) Even now, I'm constantly putting pressure on myself to be better, to do more, to figure it out….fast! Despite everything I've accomplished in four short years, there's always that nagging, overachiever in my ear whispering, "you're not doing enough!" When I worked as a reporter the assignments kept me afloat and within a work flow; I knew where I had to be, when I had to be there, how many stories to generate from it, which interviews to set up next and which press conferences were coming up. Nowadays, how much work I get done and how much money I make or don't make, is totally up to me.
Lesson learned? 
[bctt tweet="I am and will always be good enough! I am putting in the work! I am doing my best! I do deserve the mental, emotional and physical breaks…and even in those times…I'm still that b*tch!  " username="iamianthia"]
The mind is sometimes your best friend or your worse enemy. These days I use those mental beatings and channel them into courage to do the things I might be afraid to do; into determination to keep going when the contracts fall through or the pitch isn't accepted and into creativity to keep this train on track. No one really tells you, but being successful in business is 99% mental. Much of it is getting out of your own way, getting out of your own head and fighting the urge to overthink yourself into anxiety.
 When I wanted to give up – Yup, there have been tears…many tears, actually! Even though I've slowly learned the art of managing my mental, it's indeed a long process getting to the "I'm a boss" mentality. You have to learn how to crawl through the Cave of Courage, navigate the mountainous terrains of Determination Island and learn to backstroke, doggy paddle and breaststroke through the Sea of Tears! You have to have tough skin, laser sharp focus and a goal always in mind. Essentially, you need a sh*t load of guts, risks and…yes, more tears to make it as an entrepreneur.
Lesson learned? It's simple; I learned to crawl through the Cave of Courage, navigate the mountainous terrains of Determination Island and learn to backstroke, doggy paddle and breaststroke through the Sea of Tears!
I'm in this thing fighting daily and while there are days I want to throw in the towel, I remember the sigh of relief I breathe each night knowing that whatever it is I'm building, is mine!
Quit your job lately or thinking of it? Share your thoughts, feelings and…tears with me in the comments below!